Coniston to Barrow Walk in aid of Special Kids In The UK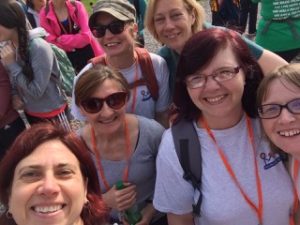 In May this year Special Kids  members Carla Richardson and Val Wardle – along with 4 other team members (and a couple of thousand others) took part in the Coniston to Barrow leg of the annual Keswick to Barrow walk in Cumbria.
The walk is now in it's 50th year.  The idea of walking from Keswick to Barrow originated in 1966 as a result of a statement made by the late U.S. President, John F Kennedy, that "every American should be capable of walking 50 miles a day".  It started in 1966 with a small number of teams and has grown rapidly in popularity with  teams raising thousands of pounds  for many local charities.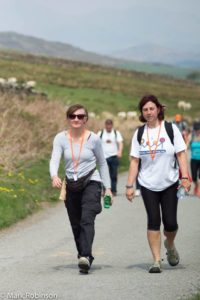 The 23-mile Coniston to Barrow Walk (C2B) was introduced in 2010, and has grown in  popularity.  The walk starts at the top of Coniston Lake and passes along the side of the lake, across Kirkby moor (the steep bit!) past the South Lakes Safari Park (the site of many a Special Kids meet up) before going through Dalton where locals line the streets shouting encouragement for the last few miles and handing out drinks and sweets for that much needed energy boost before finishing in Barrow where they received a well deserved commemorative coaster, a very welcomed drink and plate of pie and peas!
Thankfully the weather was kind to them this year as were the hills and the blisters on their feet are just a memory.  They were  cheered on by many supporters – including Vals son and special kids member Jack who joined them for the last 5 miles and is hoping to do the full 23 miles next year.
The team raised about £1,000 but the final total will not be known until November.  If anyone still wants to donate they can until the end July by using the sponsor a walker link here (search for either Carla Richardson or Val Wardle)