London to Brighton Bike Ride, in aid of Special Kids in the UK
On June 19th Dave Ridden cycled 54 miles from London to Brighton to raise money for Special Kids in the UK.
Having sacrificed his fathers day lie in, he departed from Clapham Common at 08:30 as one of over ten thousand riders raising money for the British Heart Foundation and various other charities. The weather was a little warmer than expected but the first 18 miles were completed in good time before a much deserved bacon roll stop courtesy of the local scout group!
The next 25 miles were a blur, winding down towards Sussex where things would become both familiar and challenging. Having grown up in the area, Dave knew that as he got closer to Brighton, the roads became more undulating and would ultimately end with the biggest challenge of all, Ditchling Beacon.
The beacon is well known on the ride for being the toughest test, 1 mile long at 14% gradient sees a gain of over 500 ft. Previous attempts to conquer this climb have ended in failure and a mass walk up the hill (which is just as hard as cycling) but this year Dave managed to cycle up it, and below is the proof! The climb was well worth it as the views over the South Downs are stunning, and they were made even better be a celebratory Mr Whippy!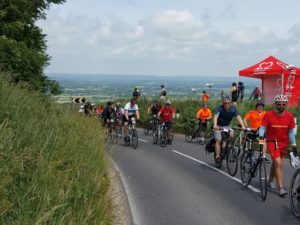 The remaining 7 miles in to Brighton are all downhill and were covered with ease and relief as Dave rolled in to Brighton at 2:30pm to complete the ride in 4 hours and 20 minutes, a personal best time!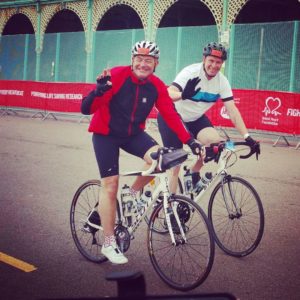 Thank you to everyone who supported Dave as he raised a total of £1119.25 for Special Kids in the UK! Thanks also to Martin Silk for being a brilliant riding partner and motivator on the day.